Former Vice President Mike Pence sharply disagrees with Florida Gov. Ron DeSantis' description of the bloody war between Ukraine and Russia as a "territorial dispute."
In a potential preview of a policy clash between two likely contenders for the 2024 Republican presidential nomination, Pence on Wednesday emphasized that "the war going on in Ukraine right now is not a territorial dispute. It is the result of an unprovoked war of aggression by Russia. Russia is attempting to re-draw international lines by force."
Pence made his comments in an interview on "New Hampshire Today," a morning news-talk radio program in the state that holds the second contest in the GOP presidential nominating calendar. Pence's response came after he was asked by host Chris Ryan about DeSantis' comments that protecting Ukraine is not a "vital" national interest for America. 
While many in the GOP's traditional hawkish wing firmly back supporting Ukraine and criticize President Biden's administration for not doing enough to assist Kyiv, they face an increasingly more vocal wing of anti-war voices from the MAGA wing of the party that's led by former President Donald Trump, who remains the front-runner in the early legs of the GOP presidential nomination race.
THE INCREASING GOP DIVIDE OVER SUPPORTING UKRAINE FRONT AND CENTER IN 2024 RACE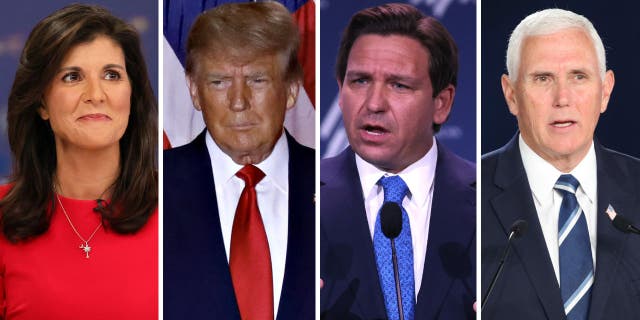 DeSantis, who currently remains on the 2024 sidelines but who now appears to be openly flirting with launching a presidential campaign as he makes visits to Iowa and the other early voting caucus and primary states, wrote earlier this week that"while the U.S. has many vital national interests – securing our borders, addressing the crisis of readiness within our military, achieving energy security and independence, and checking the economic, cultural, and military power of the Chinese Communist Party – becoming further entangled in a territorial dispute between Ukraine and Russia is not one of them."
DESANTIS UKRAINE COMMENTS REVERBERATE ACROSS CAMPAIGN TRAIL
"The Biden administration's virtual 'blank check' funding of this conflict for 'as long as it takes,' without any defined objectives or accountability, distracts from our country's most pressing challenges," DeSantis said in a response to a questionnaire sent by Fox News' host Tucker Carlson, which Carlson posted on Twitter.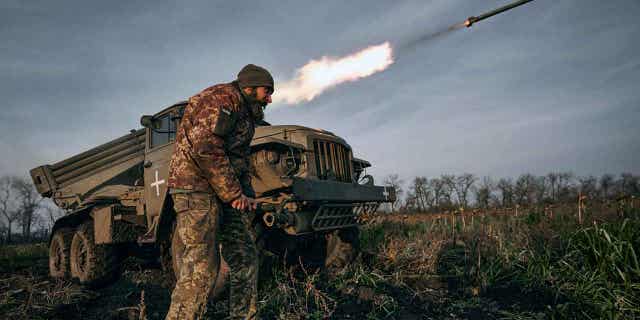 Pence, who is gearing up for a likely White House run and who's said he'll make a decision by springtime, said during the Wednesday radio interview, "I strongly support continuing to provide the Ukrainian military the resources necessary to repel that Russian invasion. I truly do believe that we are the arsenal of democracy, and we are the leader of the free world and continuing to stand with Ukraine to support their fight. They are consistent with the conservative principals first articulated by Ronald Reagan."
The former vice president, spotlighting that he met with Russian leader Vladimir Putin, charged that "anybody who thinks that Vladimir Putin will stop in Ukraine if he takes that country, I think has another think coming."
Pence said, "Maybe I feel as passionately as I do" about supporting Ukraine because "I've got son who's a fighter pilot in the Marine Corps. I've got a son-in-law who's a fighter pilot in the Navy."
UKRAINE SUPPORT BECOMING DIVIDING ISSUE IN FIGHT FOR 2024 GOP PRESIDENTIAL NOMINATION
"I think we ought to give them the resources, the equipment, the supplies, so they can fight the Russians in Ukraine and prevent the day that Russia would roll into a country where our sons and daughters in uniform would be required to go and to fight and defend. Let's win it there," Pence added.
Carlson sent a list of questions about Ukraine to a number of actual and potential 2024 Republican presidential contenders, including Trump, DeSantis, Pence, former ambassador to the United Nations and former two-term South Carolina Gov. Nikki Haley, and others.
While they agree on policy when it comes to support for Ukraine, Trump chided DeSantis. Pointing to then-Rep. DeSantis' support for aiding Ukraine in 2014, Trump claimed the governor is "following what I am saying. It is a flip-flop. He was totally different. Whatever I want, he wants."
Haley, in her response, disagreed with both Trump and DeSantis.
"America is far better off with a Ukrainian victory than a Russian victory, including avoiding a wider war," Haley argued. "If Russia wins, there is no reason to believe it will stop at Ukraine. And if Russia wins, then its closest allies, China and Iran, will become more aggressive."
CLICK HERE TO GET THE FOX NEWS APP
But she also reiterated that she opposes any "blank checks" for Ukraine.
The latest divisions over support for Ukraine among the actual and potential Republican White House hopefuls is likely an appetizer of things to come, as the GOP presidential race heats up. 
Read full news on the source directly https://www.foxnews.com/politics/pence-pushes-back-against-desantis-comment-ukraine-war-russia-territorial-dispute